Atmospheric and Pressure Manways
We manufacture a full line of stainless steel manways.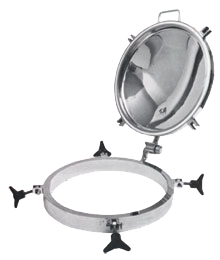 Extremely sanitary finishes are one of Lee's specialties. High polished surfaces as well a electropolished finishes are a standard part of Lee's craftsmanship. Lee provides manways for sanitary applications in the food, cosmetic, chemical and pharmaceutical industries.
Features:

Construction sanitary stainless steel in any grade or other highly corrosion resistant alloys with type 316-L as standard

High-strength molded plastic wing nuts with stainless steel inserts are standard and provide quick access

T-16 Waukesha metal wing nuts are optional

Self-retained gasket design; specially machined dovetail groove

Standard gasket material is white neoprene; black neoprene standard on atmospheric design, silcone, viton and EPDM are available upon request

Designed for use in atmospheric conditions

ASME approved designs up to 95 PSIG and full vacuum

Heavy-duty construction

Inside and outside finishes of mill, #4, #5, and Lee Super #7 (mirror) and electropolish available

Lee Super #7 finish has an average surface roughness of less than 6 Ra.

Variety of gasket materials available

Modifications available to contain installed fittings for inlets, vents, gauges or sightglasses

18" diameter is the most economical and has the fastest delivery date

Designs are available up to 30" diameter upon request